Free Audiobook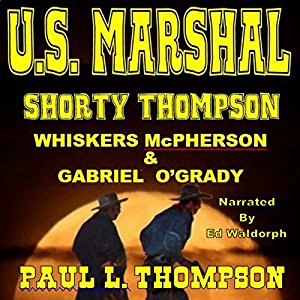 US Marshall Shorty Thompson Series: Whiskers McPherson & Gabriel O'Grady
Mackland McPherson, a.k.a. Whiskers McPherson, headed west to the Rocky Mountains. Set upon by road agents twice before getting to the Mississippi River, he realized he was a greenhorn and needed a rifle and pistol to survive.

Heading west across Kansas, for the first time in his life, he found what real fear was. Indians kept him hunkered down in a buffalo wallow for days before cowboys rode up and saved his life. Instead of letting him ride on to certain death, the ranch these cowboys worked for would not let him go on west until he learned everything they knew about surviving.

He did learn and became one of the last fur-trapping mountain men in the Sangre de Cristo Range of northern New Mexico and southern Colorado.
Just for coming to my website and reading this blog I will give you a code for this audiobook on Amazon. Simply use the contact form and leave your name and contact info or use the clickable email link in the header of every page.
Once you have the code, click the book title above to go directly to the Amazon book page to claim your free audiobook.
Add the audiobook to your cart.
If you are prompted to sign in, please create a new Audible.com account or log in. Otherwise, proceed by clicking "Do you have a promotional code?" beneath the cover artwork of the audiobook.
Enter the promo code, and click "Apply Code."
A credit for the audiobook will be added to your account. Click the box next to "1 Credit" and click the "Update" button to apply the credit to the purchase.
After you select "1 Credit" and click "Update" to modify your shopping cart, the price for the audiobook will change to $0.00. You may proceed through the checkout by clicking "Next Step" and "Complete Purchase" on the subsequent page1