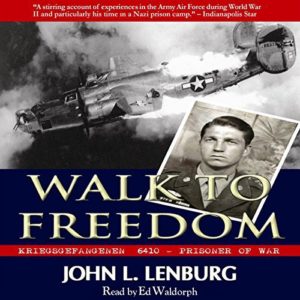 Walk to Freedom: Kriegsgefangenen #6410
June 30, 1944: Fifty members of the United States 460th Bomb Group embarked on an important mission to destroy German oil refineries in Silesia, Hungary, only to come under heavy attack. Above the cloud cover, German twin-engine Me-410 fighters firing 20-millimeter cannons blasted seven B-24s out of the sky.

Seventeen US airmen were killed, 24 captured, with many of them badly burned, wounded, or beaten to death by Hungarian peasants after parachuting to the ground. This single event marked the beginning of a heart-wrenching episode in the life of one airman: T/Sgt. John L. Lenburg.

On his 36th mission, he was shot down along with the crew of their B-24, "Miss Fortune", over enemy lines near Lake Balaton, Hungary. Taken prisoner (or "Kriegsgefangenen #6410", the code name the Germans gave him), he never knew if he would see his homeland again. Walk to Freedom: Kriegsgefangenen #6410 – Prisoner of War is Lenburg's powerful, compelling account of his 327 days of imprisonment and long walk to freedom 11 months after his capture.

Recalling the inhumane treatment and horrific conditions of his encampment, the missions and memories, and the reunions of the few who survived 50 years later, this revised and expanded memoir demonstrates why Lenburg and his crew were "the greatest generation" of their time.
As a US Marine of the Vietnam Era it was a privilege for me to narrate this account from WWII.
Use the contact form to request a code to get this audiobook, FREE. Instructions to redeem the code are in the blog entry for Whiskers McPherson, below. I will also send them with the coupon code.
Check out all my books on my Audiobooks Page.