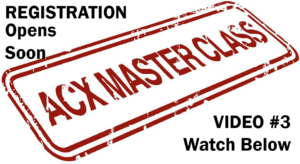 Video #3 is Here
Are you excited yet?
You should be. The third and final video in the series is posted and ready to view. This should tell you everything you need to decide to take the step you have always wanted and become an Audiobook Narrator.
Registration is opening soon. To take advantage of the special offers you must sign up within a limited time period after the class opens. Make sure that your name and email are on the list below the video so you get notified as soon as registration is open.